Zoiper
Zoiper is SIP program for calls and videocalls. It is available free of charge nearly for all devices.
Advantage of Zoiper is support of both SIP and IAX. Protocol IAX is suitable for calling from mobile phone as it is less data consuming and it has less problem to get through NAT/router/firewall. In the new version of Zoiper is IAX charged. An older version of Zoiper can be downloaded here
Zoiper for Android
Launch Zoiper
Click on Agree and Continue, then Skip
Your username and password can be found in the user interface (see the picture below)
Click on OK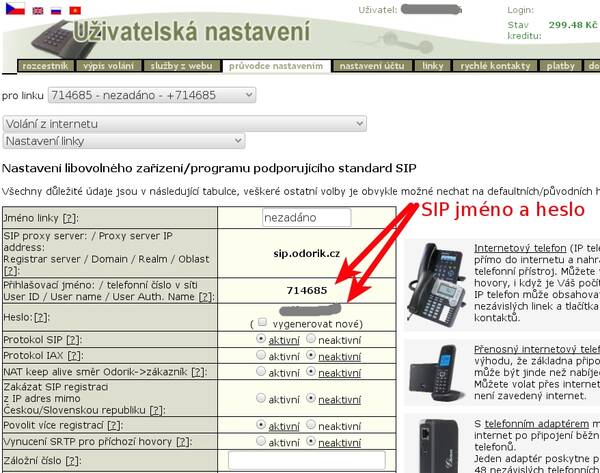 If you have the older version of Zoiper, you can find the instruction here
Tips and tricks
Select the codecs to be used by Zoiper. Check your user interface if the particular codecs are allowed on your line.
All the calls can be recorded and for example emailed.
Switch on the possibility of integrated keypad to dial on phone's keypad.
If you do not want to receive the calls with Zoiper, switch off the possibility of running the application in background.
Select the supported networks for the calls.
In case of problems with quality of calls at low quality connection, try to use jitter buffer.

Run in background is set in Zoiper by default (there is green tick in the circle in the status bar). To avoid battery consumption, switch this off. Config→ at the bottom select Exit.
You can set your Zoiper by QR code: